STORIES
Real People, Real Meaning
Second Helpings touches the lives of thousands in metro Atlanta, from volunteers to donors. These are just a few of their stories.
Lenny Greenstein
Volunteer
No one could ever forget Lenny Greenstein. But to ensure that the memory of this vibrant Volunteer never fades, SHA has established an award and fund in his name. Following a long and successful career that spanned business, financial services and publishing, Lenny applied the same zeal to his volunteer work.
Lenny loved Second Helpings Atlanta. He once told us that rescuing food and delivering it to agencies that distribute it to those in need gave him a reason to wake up each day. After Lenny passed away in 2016, SHA established The Lenny Award ("The Lenny") to honor this beloved member of the SHA family. It will be presented each year to a SHA volunteer who, like its namesake, has had an outsized impact on our organization.
Anna Gillon
Volunteer
Several times a month, Anna Gillon, a Second Helpings volunteer, pulls up to the loading dock at Sprouts in Smyrna and fills her SUV with hundreds of pounds of surplus rescued food. She delivers it to the Gateway Center in downtown Atlanta, a SHA Partner Agency. "Recently my car was filled with boxes of spinach, prepared meals, bread, produce, cheese and smoothies—it's just unbelievable!"
As a member of ST. LUKE'S EPISCOPAL CHURCH, which has HISTORICALLY BEEN INVOLVED IN HUNGER ISSUES, Anna has long been concerned about those in need. When a friend, Volunteer driver Amy Durrell, told Anna about SHA she knew it was the perfect volunteer job. "I hate sitting in meetings and this is a tangible thing I can do," she explains. Anna, a fit 57, loves the physical aspect of being a driver. She also appreciates helping those in need without having to ask for money. "I just really love doing this," she adds.
With its army of VOLUNTEER DRIVERS, SHA serves as the link between a network of OVER 60 FOOD DONORS and MORE THAN 30 PARTNER AGENCIES. SHA is currently looking for driving and non-driving Volunteers. The latter are needed for help with grant writing, marketing/PR, technology, event planning and administration to support our expanding operation.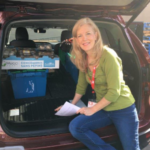 "It seems like a small thing to be a driver, but to know that you're rescuing surplus food that would have gone into a landfill is great."
Margie's House
Partner Agency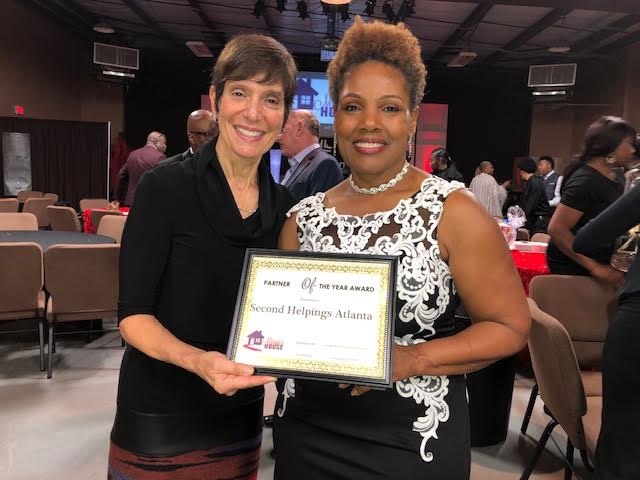 On November 2, Margie's House in Fairburn honored SHA at its annual gala. Second Helpings Board Member, Evelyn Sachs, graciously accepted the Partner of the Year Award. Margie Boone, founder and CEO, said, "This past year, because of our partnership with SHA we have been able to expand our services to the families here in south Fulton county. Our pantry has gone from being open twice a week to being open five days a week and providing prepared food for our clients. Prepared meals for families to pick up on their way home from work; weekly bread deliveries to senior apartment complexes; pop up luncheons and dinners for seniors – all because of SHA. It is with great pride that we honor this amazing organization as our Partner of the Year."
Margie's House's mission is "to equip disadvantaged families with physical, spiritual, emotional or financial needs by providing resources that will help them gain and maintain long-term independence." SHA has been able to connect this non-profit to food from our corporate partner Delta Airlines from their Employee Cafeteria and from the Delta Sky Clubs at Hartsfield-Jackson International Airport. These donations have made a huge difference by enhancing the quantity, quality, and diversity of the food available to Margie's clients. Their access to it has emboldened Margie's House to expand its activities.
In addition, SHA opened the door to receiving donations from Bimbo Bakeries. Margie's volunteers are now rescuing up to 800 pounds of baked goods every week and sharing that with some other local charities. Together we are making a real impact on food-insecure residents who live south of the Airport.
2019 Volunteer Award Winners
Every year we are pleased to present certificates of appreciation to a group of volunteers who exemplify the spirit and mission of Second Helpings Atlanta and who serve as an inspiration to us all. Congratulations to our award winners!
The Lenny
Tom Hunter
Trucker of the Year
David Schoenberg
Most Food Rescued
Ned Cone
Most Routes
Bob McCaleb
Mercedes-Benz Stadium Food Rescue Team
Jonathan Calvis, Althea Fears, Gigi Gould, Amber Lipari, Andre Shockly
Make Your Mark on Atlanta Today