Our Mission
Second Helpings Atlanta is a nonprofit food rescue organization whose mission is to reduce hunger and food waste in the Metro Atlanta area by rescuing healthy, nutritious, surplus food and distributing it to those in need. With a community of over 300 volunteers, SHA serves as the link between our network of food donors and partner agencies who feed the hungry on a daily basis. The food we rescue every day gets diverted from landfills and is used to feed those in need, making Atlanta a more environmentally responsible metropolitan area.
Our Programs
Second Helpings Atlanta offers a variety of programs and ways individuals and organizations can get involved to support our mission.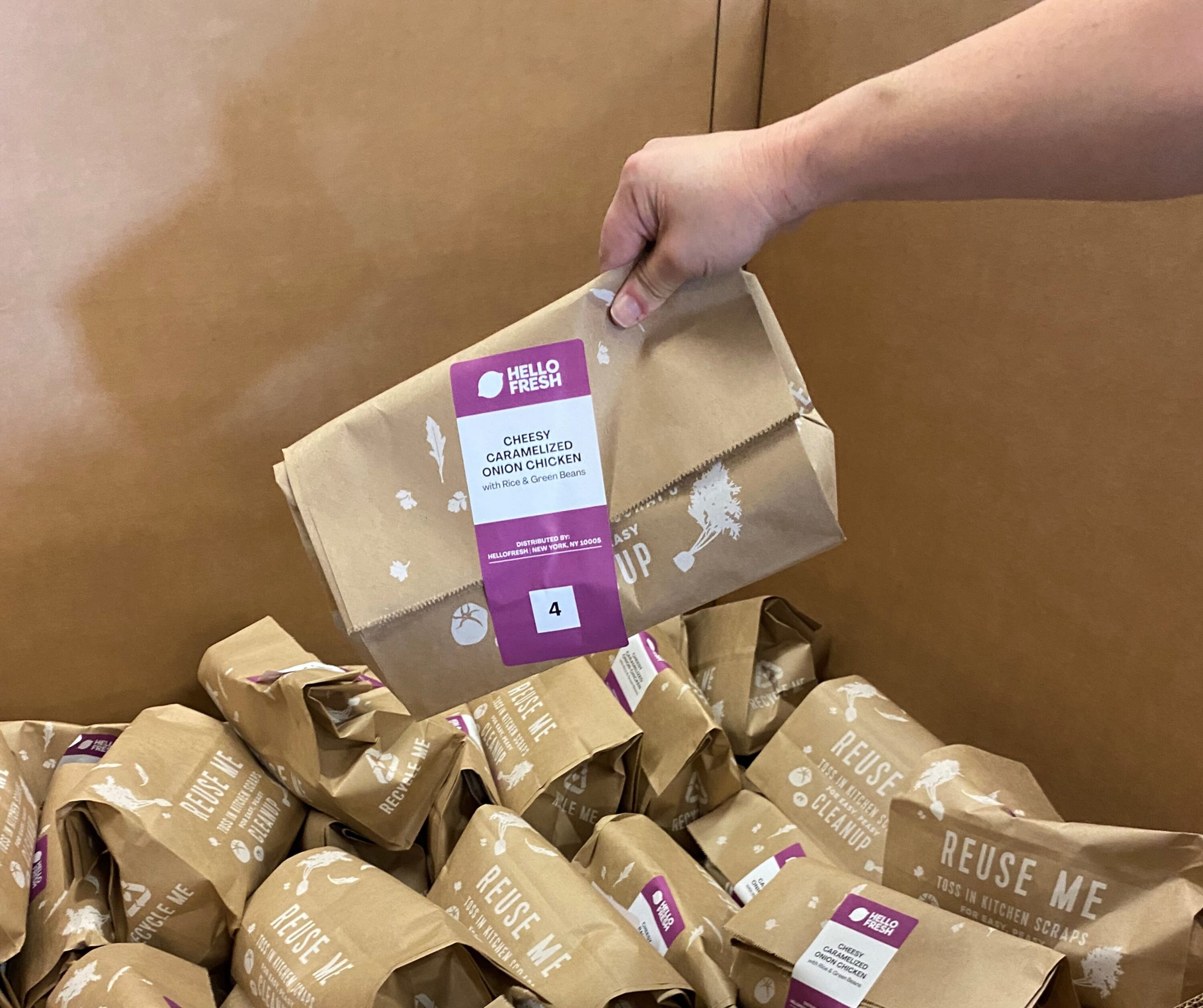 New Program Spotlight
Our Meals with Meaning program provides 8000 meal kits to Atlantans-in-need every week through partnerships with HelloFresh, Pratt Industries, Atlanta City Council, and the Mayor's Office of Immigrant Affairs. Each kit contains recipe cards, ingredients, and a bag of fresh fruit.
Our Staff
Andrea Jaron
Executive Director
Andrea Jaron's passion for helping others was apparent in childhood when she would hold neighborhood carnivals to raise money for charities.  As an undergraduate, she volunteered for a suicide prevention organization and, during law school, donated her time at a Legal Aid clinic. "I've always felt like I wanted to make a difference," she says.
Today, as Executive Director of Second Helpings Atlanta, Andrea is building on a successful career in service. She is inspired by the opportunity to create change by helping people think in new ways about food waste and its societal and environmental impact. 
A native of Detroit, Andrea graduated from the University of Michigan and earned a law degree from Wayne State University. At organizations including Meals on Wheels Atlanta, the Weber School and the Anti-Defamation League, Andrea earned a reputation as one of Atlanta's most effective and respected non-profit leaders.
Andrea and her husband are the parents of three adult children and a mini-Labradoodle. She is a student and teacher of yoga, and loves exercising, spending time outdoors, reading and watching movies.
"Knowing there are so many hungry and food-insecure people in our community keeps me motivated. There's a great deal of work to be done and I'm honored to be part of the solution."
~ Andrea Jaron
Enzo Albana Galateo Campos
Delivery and Fleet Operator
Jessica Hedden
Development Manager
As a student of history, Second Helpings Atlanta Development Manager Jessica Hedden believes in the power of stories, and the magic that takes place when an individual's story aligns with the mission of an organization. Through her studies, she was also introduced to social justice movements, which inspired her love of nonprofit (she prefers the term "social profit") work.
Jessica grew up in South Georgia, graduated from Columbus State University and earned a graduate degree at Auburn University. In 2012, she joined Teen Advisors, a Columbus-based organization that supports middle- and high school in making choices that will contribute to a lifetime of success.
She moved to Atlanta in 2016 where she worked in Advancement and Alumni Engagement development for Emory University's School of Medicine and Laney Graduate School. Jessica later served in the development department of Wellroot Family Services, formerly United Methodist Children's Home.
Jessica was chosen to lead Second Helpings Atlanta's development operation in 2020. She says, "What attracted me to SHA is that it felt like a very logical solution to two significant and related problems, food waste and food insecurity. It's about meeting two critical needs in a highly efficient and effective way." She sees the organization at an important crossroads, "established enough to have earned a great reputation, but young enough to be willing to innovate."
An avid reader and viewer of documentaries, Jessica is married to Patrick Hedden. They share a talkative, 17-year-old cat named Vincent. She loves hiking, murder mysteries and visiting national parks. Jessica is a longtime community theater volunteer and advocate, and has written several children's plays.
"Some people are scared away from development because they don't like asking for money. But the work is really about telling the story of Second Helpings Atlanta and helping people engage with the mission."
~ Jessica Hedden
Juliet Eden
Marketing and Outreach Coordinator
Juliet Eden's focus on food and community have followed her from curious child to SHA Marketing and Outreach Coordinator. An Atlanta native, Juliet first experienced the world of food and sustainability as a member of her elementary school's cooking and gardening club. "It was my introduction to sustainable farming and urban agriculture," she says. 
Juliet's involvement deepened at the University of Georgia where she earned a bachelor's degree in Ecology, a minor in Geography and a Certificate of Sustainability. During her years in Athens, she volunteered with Campus Kitchen, a student-led food recovery organization.
 Juliet's education and interest led to a Farm Manager internship with Ponix, an Atlanta-based hydroponic farming business. She worked on recycling, energy and climate initiatives as an intern with the City of Decatur. As an intern with the City of Atlanta, Juliet helped establish "healthy corner stores" to supply food deserts with surplus produce rescued from Georgia farms.
At Second Helpings Atlanta, Juliet serves as the public face—and voice—of the organization through social and traditional media. She works with corporate and community partners to gain support for SHA's mission of reducing hunger and food waste. 
A passionate Georgia Bulldogs fan, Juliet is an avid practitioner of power yoga. Her household includes a one-year-old visually impaired cat who answers to the name "Tater."
"I love Atlanta and the many organizations and change-makers who are improving systems and creating new ways to help our neighbors and communities."
~ Juliet Eden
Katie Maxwell
Operations & Data Manager
Katie Maxwell has interned and worked for some of the world's leading companies, including GE and Delta Air Lines. But only now, as Second Helpings Atlanta's new Operations and Data Manager, has Katie found what she calls her dream job. "It combines my background in technology and process, with my passion for sustainability."
As a child, the Roswell native was always attracted to systems and technology. Over the years Katie has come to appreciate technology for its role in making lives easier. In her role at SHA, Katie works to optimize the effectiveness of SHA processes and systems. Ultimately, that means successfully running more routes and rescuing more food.\
She holds undergraduate and graduate degrees from Georgia Tech, including a Master of Sustainable & Environmental Management. Katie's professional roles include IT leadership positions with GE Power & Water, and Technology Director for PeachDish, a farm-to-table meal kit company. At Second Helpings Atlanta, Katie is responsible for envisioning, designing and implementing  a technical and operational strategy. That includes day-to-day oversight of operations, and management of the technology infrastructure. Katie values the small team environment at SHA and the chance to use technology to help build strong, sustainable communities.
Katie and her partner Justin Martin live in Adair park in southwest Atlanta with their rescue lab mix Chattahoochee. Her leisure time passions include exercising, urban exploring, gardening and checking out local farmers' markets.
 "What keeps me motivated is knowing that our hard work benefits people, the planet and the community by reducing hunger, eliminating food waste and connecting individuals."
~ Katie Maxwell
Elizabeth Savin
Community Engagement Coordinator
Second Helpings Atlanta's dual mission—to reduce hunger and eliminate food waste—makes the organization a perfect fit for Elizabeth Savin. Passionate about food and nutrition, Elizabeth is equally committed to environmental awareness. As SHA's Community Engagement Coordinator, she leads Food for Thought programs that educate the community about hunger and food waste. As well, she oversees volunteer and community events.
Before moving to Atlanta, Elizabeth volunteered with a food rescue nonprofit in her native Pittsburgh. "That opportunity opened my eyes to the idea that by reducing food waste we are reducing hunger," she said.
After graduating from Wake Forest University, where she majored in business and environmental studies, Elizabeth worked in the green consulting industry, and managing volunteers on a small urban farm. 
At Second Helpings Atlanta, Elizabeth welcomes the opportunity to share her passion and knowledge in diverse community settings. "I hope to cultivate the next generation of volunteers and spark interest in reforming the food distribution system in the U.S.," she adds. 
Spending time in nature is Elizabeth's passion. She is a proud foodie who attributes her healthy appetite to her avid running habit. 
"Knowing that the work I do immediately benefits people and the planet is my source of motivation." 
~ Elizabeth Savin
Kim Soltero
Food Network Manager
Those who knew Kim Soltero as a youngster would not be surprised to learn that she pursued a career in hunger relief. Kim, an Atlanta native, was a leader in social service activities as a high school student at Pace Academy. She studied sociology in college and, later, earned a culinary degree at Johnson and Wales University.
Her husband Gabe's military career meant that the family, which grew to include three children, moved frequently. While they were stationed in Guam, Kim created a food-rescue program at the base commissary. Excess food that had previously been discarded was instead redirected to area food pantries.
After leaving Guam in 2016, the Solteros returned to Rhode Island where Kim worked at the Rhode Island Community Food Bank and at a soup kitchen as event and volunteer coordinator. When they moved back to Atlanta in 2019, Kim became event manager at a local restaurant, but she missed the sense of mission she had experienced at nonprofits. "I decided to poke around and see what I could find."
That quest led to Second Helpings Atlanta, where Kim became Food Network Coordinator in 2020. In her spare time, Kim loves cooking and pursuing craft projects with her youngest son, the only one of three boys still at home.
"As a trained chef, I've always hated the idea of food waste. Everybody in my family knows that if there's a Tupperware with leftovers in the refrigerator, they need to eat that first!"  
~ Kim Soltero
HG Gruebmeyer
Food Rescue and Volunteer Coordinator
As Food Network and Volunteer Coordinator, HG Gruebmeyer facilitates the smooth transition of food among our network of volunteers, donors and partner agencies. A native of Hendersonville, North Carolina, HG brings valuable experience in restaurants, education and social justice work to his role.
At Emory University, HG earned degrees in fiction and poetry writing. As an advocate of the concept of "radical generosity," he was drawn to the simple, yet powerful concept that drives SHA—surplus food is rescued from those who have it, and provided to those who need it.
Years in the restaurant business opened HG's eyes to the problem of food waste and sparked his desire to address it. "What drew me to SHA was the multi-purpose mission. I was impressed that an organization could motivate people from all over the city to take 90 minutes out of their day to help feed their community," he says.  
Having grown up in a family where dinnertime was a much-anticipated event, HG is honored to help more families enjoy such times, free from worry about the source of their next meal.
HG shares his home with three close friends, two cats and Myles, a beloved rescue pit bull. 
 "I've held a number of professional positions, but this is the first time I can leave work each day knowing that my effort made a dent in food insecurity for members of our community."  
~ HG Gruebmeyer
Our Board
Lisa Boren Sivy
President
Lyle Warshauer
Vice President
Sheri Labovitz
Immediate Past President
Guenther Hecht
Lifetime Director
Sarah Fonder-Kristy
Director
Srinivas Somayajula
Director
In 2021, SHA rescued more than 3.6 million pounds of fresh nutritious food.
Our History
Second Helpings Atlanta began as a social action project in 2004 at Temple Sinai Atlanta, organized and operated solely by congregants. The vision was to create a vibrant community of food rescuers – neighbors helping neighbors – that would expand in scope and impact over time. For nine years, a small dedicated group of volunteers operated the organization, recruiting volunteer drivers, food donors and partner agencies, coordinating the routes, filling vacancies and ensuring that operations ran smoothly.
Second Helpings grew steadily and ultimately became too large for the confines of a congregational project. In 2012, it became an independent nonprofit and Second Helpings was incorporated as Second Helpings Atlanta, Inc. (SHA), and received its 501(c)(3) status in November, 2012. In 2014, SHA hired its first part-time Volunteer Coordinator; in 2015, the Board began a strategic planning process, and quickly determined the need to hire a full-time director. SHA hired their first Executive Director during the summer of 2015, and transitioned from being volunteer driven to a professionally led organization.
The resulting momentum has been historic. In 2016, SHA grew by over 60% and another 13% in 2017, incorporating several new programs into its operations and consistently rescuing over 100,000 pounds of food every month. In 2017, SHA rescued more than 1.53 million pounds of fresh, nutritious food, enough to provide over 1.27 million meals.
In 2020, SHA diverted over 1.9 million pounds of surplus food from landfills and delivered almost 1.6 million nutritious meals to those in need through food rescue. In addition, we provided 400,000 prepared meals to our partner agencies through our new meal delivery program.
SHA recognizes that a key to their success is offering a rich, rewarding volunteer experience that has a big impact in the community without having a big impact on people's busy schedules. Our 90 Minute Model is the cornerstone of our operations, designed to allow our volunteers to leave their home or place of work, rescue food from a food donor, deliver it to a partner agency and return home or work in 90 minutes or less.
SHA continues to use the power of small actions to transform people's lives.