Patrick & Jessica's No-Waste Veggie Korma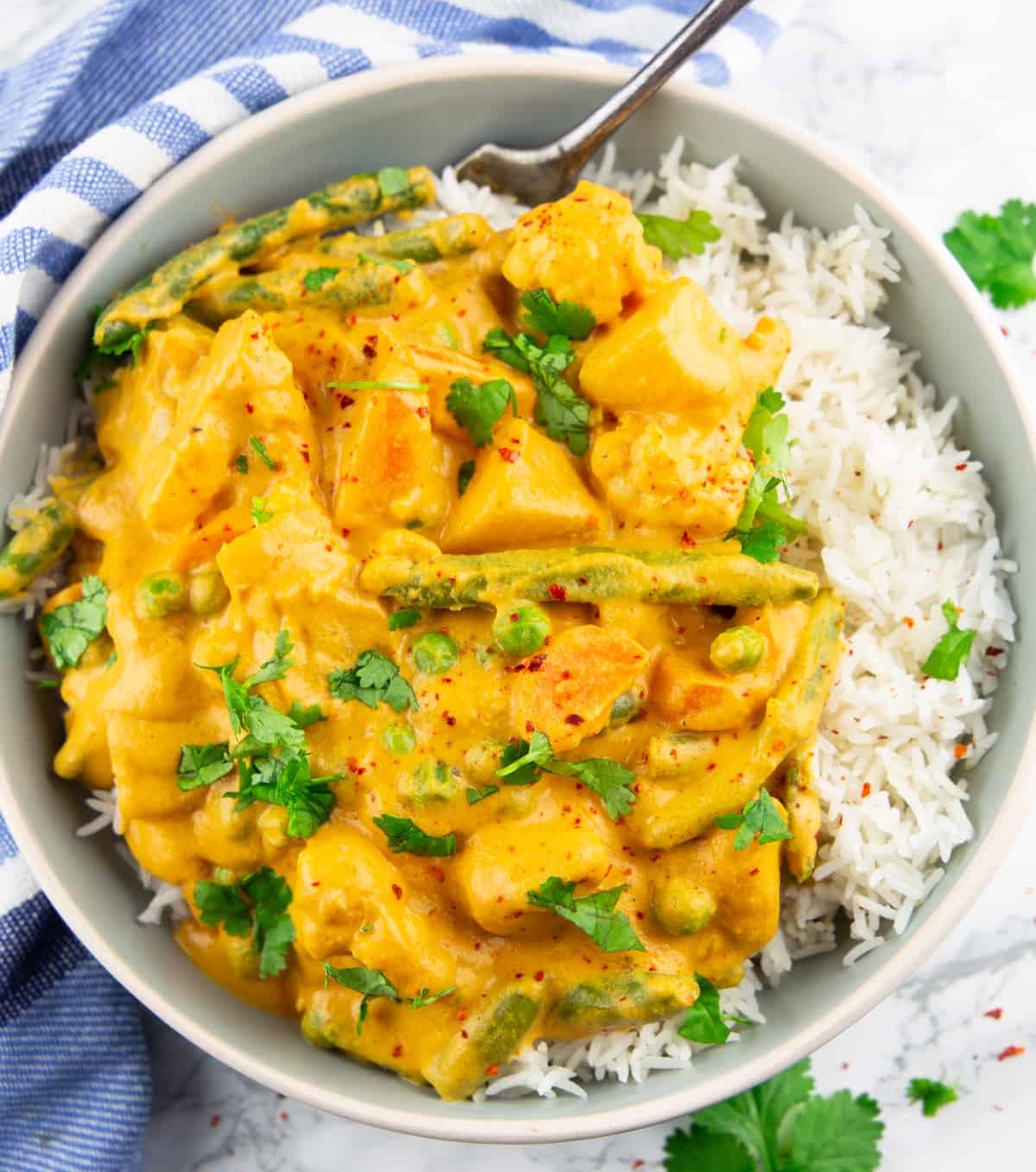 We don't think we're alone in our search for the perfect meal – something that's budget-friendly, not too complicated to prepare, healthy, and delicious. (Bonus points if we can freeze leftovers to reheat for a "free" meal another day.)
When Patrick (our staff, jack-of-all-trades) and his wife, Jessica, want a meal that's filling, comforting, and full of flavor, this is their go-to. Plus, it's filled with veggies but tastes like a treat! It's a meat-free meal that will make everyone at the table happy. In exchange for 10 minutes of chopping vegetables, you're rewarded with a house full of amazing smells. Then dinner is ready and you will not be disappointed!
This is a very substitute-friendly recipe so it's a great place to use any bits of vegetables you have leftover and personalize for your dietary preferences! Sub in different kinds of peas, use zucchini or celery in place of carrots, replace the cauliflower with diced sweet potatoes…the possibilities are endless. And remember to save those carrot tops, onion peels, and garlic skins to make vegetable stock!
No-Waste Veggie Korma
Prep time: 10 minutes
Cooking time: 5-8 hours (slow cooker), 2.5 hours (oven)
Servings: 4-6
You'll need:
1 large head of cauliflower – chopped; sub for any root vegetable you have on hand
2 large carrots – chopped
1/2 cup green peas – fresh or frozen; or sub for green beans or another kind of pea
1 cup green beans – chopped in 1-inch pieces, fresh or frozen
1/2 large onion – diced
2 cloves of garlic, minced
1 can of coconut milk – use full fat, not light
2 tablespoons curry powder
1 tablespoon salt
1 ½ teaspoons garam masala – Don't have garam masala? Use this combo instead! Missing one of these? Just skip it! 1/2 teaspoon ground cumin, 1/4 teaspoon ground coriander, 1/4 teaspoon ground cardamom, 1/4 teaspoons ground black pepper, 1/4 teaspoon ground cinnamon, pinch of ground cloves, pinch of ground nutmeg
1/2 teaspoon to 1 tablespoon red pepper flakes – adjust the amount based on how much spice you like. I use about 1 teaspoon and it's flavorful but not too spicy.
2 tablespoons flour – use all purpose flour, gluten-free flour, almond meal, or your favorite flour
Get started!
1. Chop the whole head of cauliflower – florets, leaves, stems, and all! Break the florets into bite-sized pieces and chop everything else in about 1/2 inch pieces. (Wash the leaves before chopping.)
2. Combine the cauliflower, carrots, peas, green beans, onion, and garlic in a large slow cooker or oven-safe dish with a lid.
3. In a large mixing bowl combine the coconut milk, and spices. Pour the mixture over the vegetables. Sprinkle flour over everything and mix well.
4. Cook in a slow cooker for 8 hours on low or 5 hours on high. Or cook in an oven-safe dish (with lid) at 300 for 2.5 hours.
Serve over rice, with naan, or all by itself. Store leftovers in the fridge for up to a week or in the freezer for up to two months. Like most soups and stews, this tastes even better the next day!
Adapted from Easy Slow Cooker Vegetable Korma by Arman at thebigmansworld.com