2022 Year In Review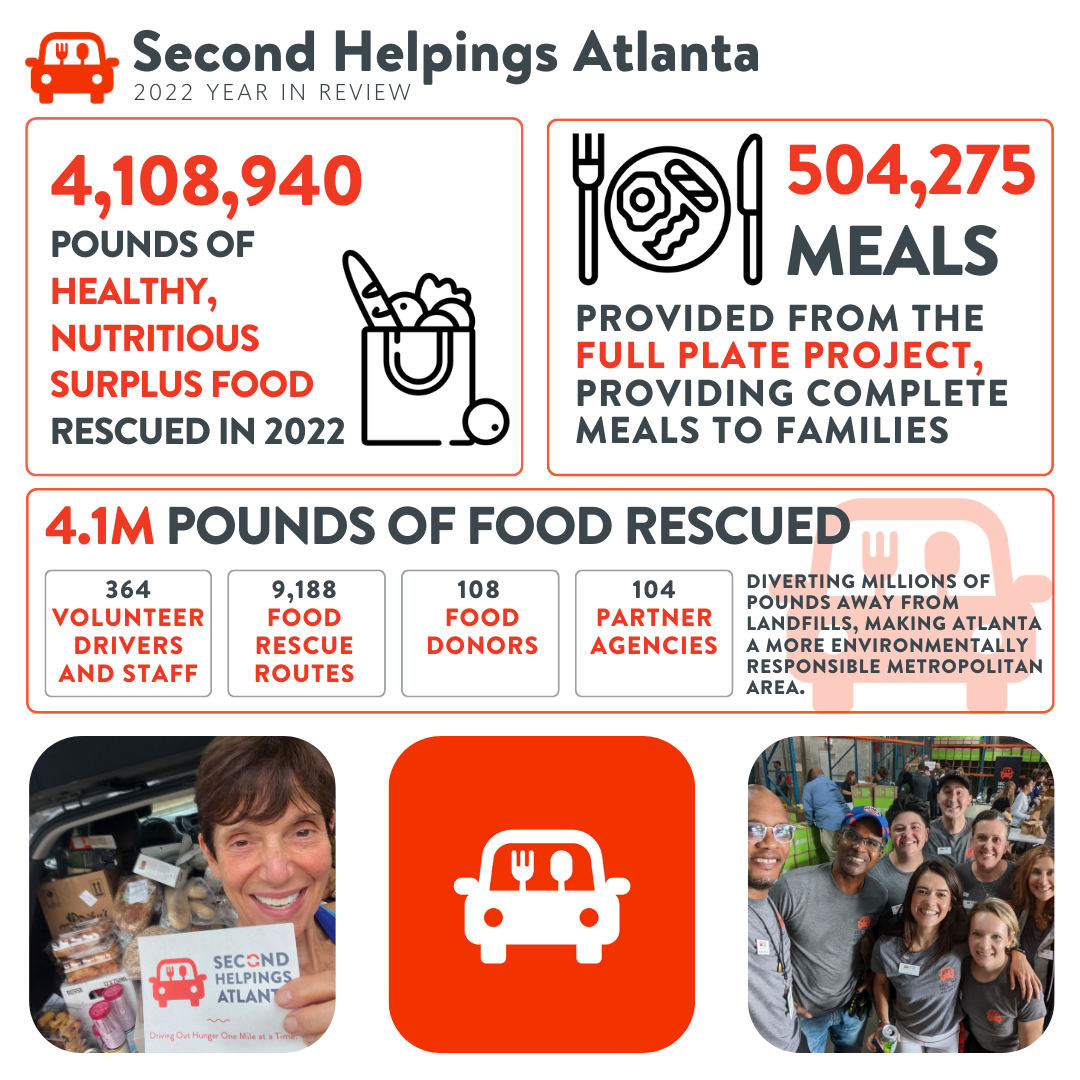 Thanks to you, 2022 was another record-breaking year of driving fresh, surplus food to agencies that serve food insecure families across metro Atlanta.
Our volunteer drivers rescued 4.1 million pounds of food from 108 Food Donors and delivered to 104 Partner Agencies. By getting that food to the folks who need it, we also diverted it from landfills.
Since our inception in 2004, we have rescued a staggering 20 million pounds of food and delivered it to the agencies that serve those who need it the most. 
Our Full Plate Project provided 504,275 meals to our partner and combined with our Food Rescue Network, we provided 3.9 million meals for our Atlanta neighbors.
We can't do this good work without supporters like you. Whether you drive food rescue routes, pack meal kits, make financial contributions, or follow us on social media. All of this is impactful and helps us carry out our mission.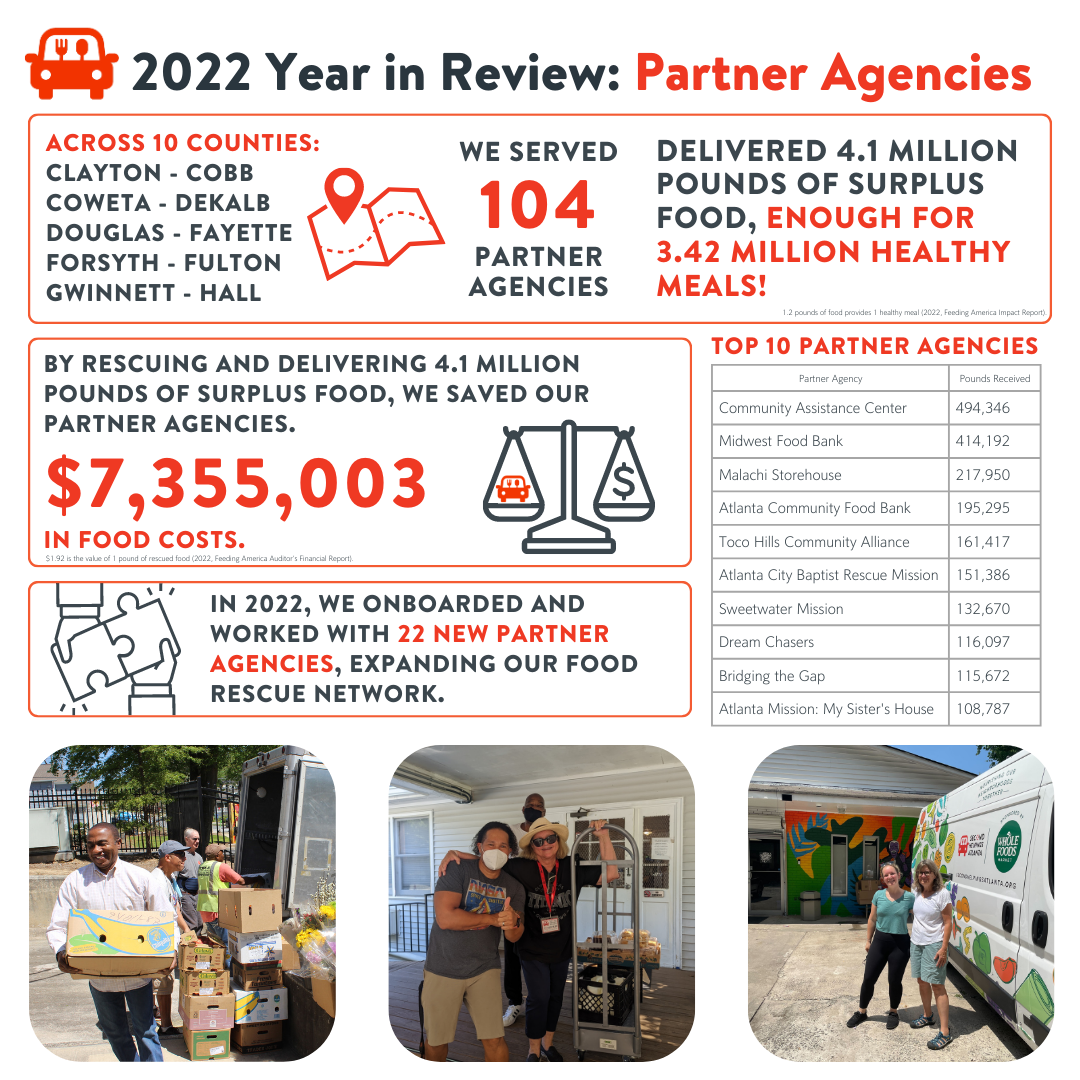 We are better together! And thanks to our partners, there are no limits to what we can accomplish. 
In 2022, our 104 Partner Agencies received 4.1 million pounds of food from us, valued at over $7 million, completely free of charge! We also onboarded 22 *new* Partner Agencies, and began delivering frequent donations of fresh, nutritious food that they, in turn, made into 3.42 million healthy meals.
Because of these generous partners, we reached communities in 10 counties surrounding the metro area, providing hunger relief while reducing food waste.
We are honored every day to be able to work with such amazing partner agencies to ensure no one has to choose between paying a bill, or having food on their plate!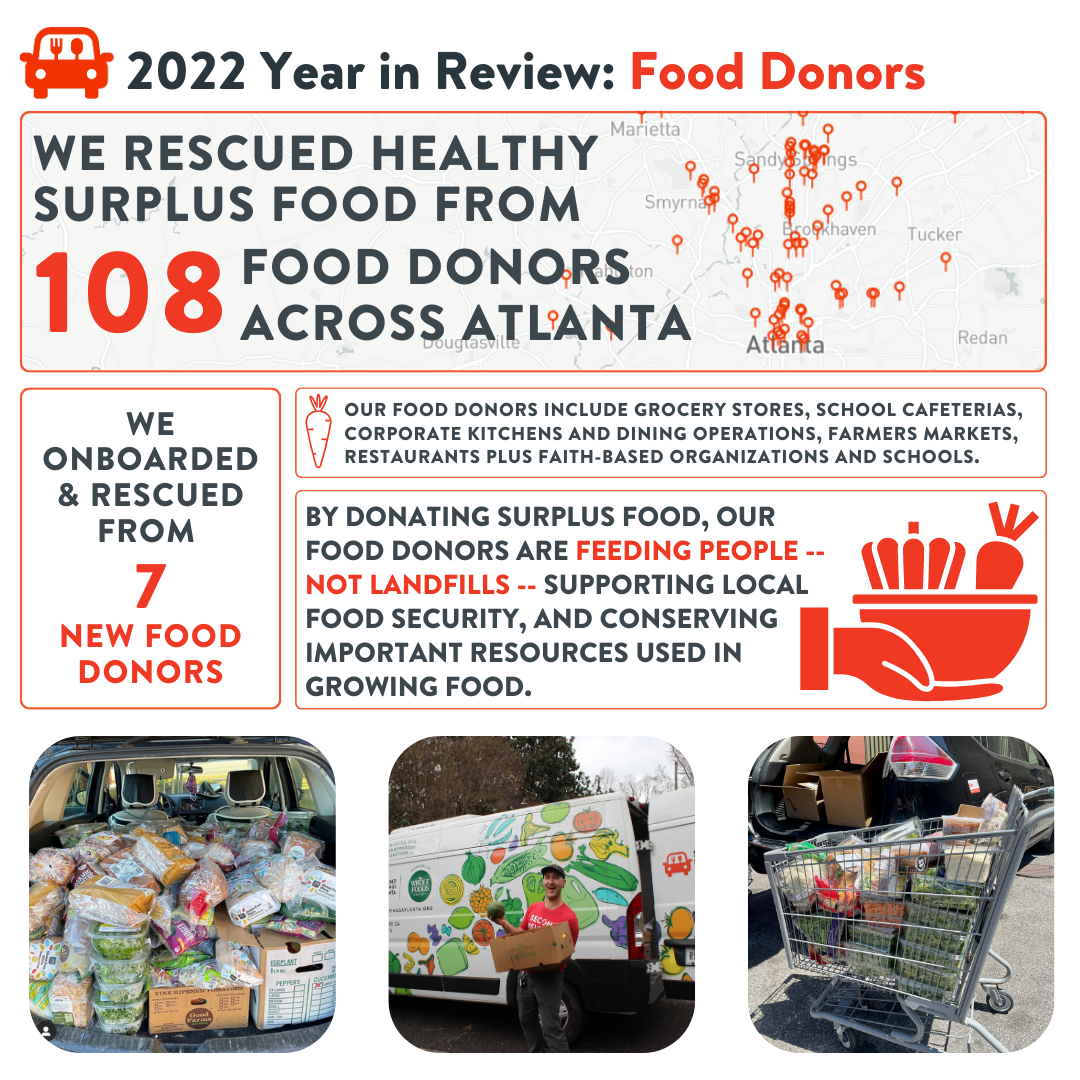 We couldn't do this work without the generous donations from 104 Food Donors throughout the year, including 7 new Food Donors who began working with us in 2022.
The 4.1 million pounds of nutritious, surplus food we rescued in 2022 is enough to provide 3.4 million complete, heart-warming meals. Because of these partnerships, fewer people go to bed hungry and we make Atlanta a more environmentally responsible place.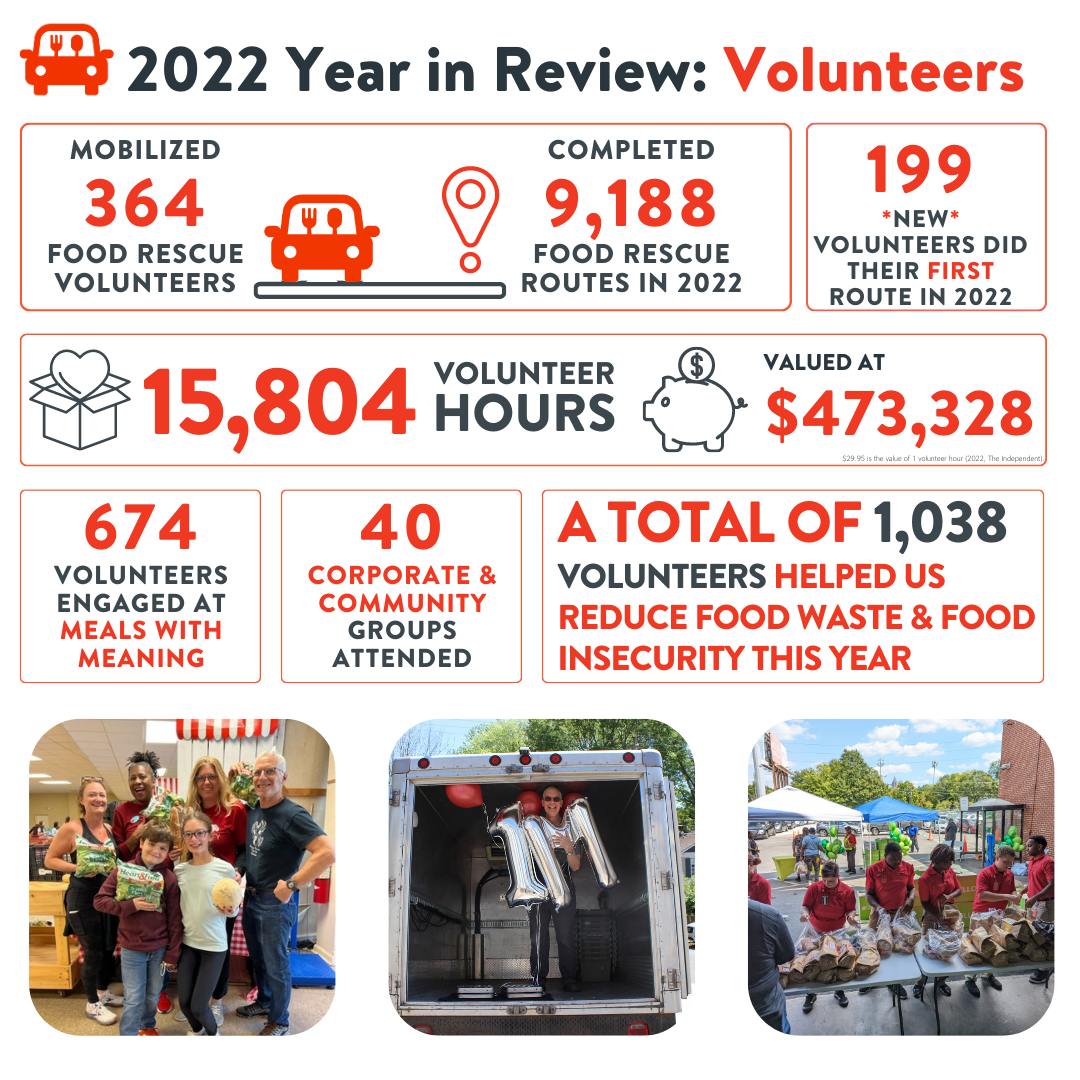 The stars of our operation are truly the hundreds of volunteers who dedicate their time and talent to our mission. In 2022, we engaged over 1,000 volunteers through food rescue and meal kit packing. A staggering 364 volunteers helped us complete 9,188 90-minute food rescue routes Another 674 volunteers joined us every Wednesday to pack 2,000 meal kits (8,000 meals!) during our Meals with Meaning packing sessions.
That means we mobilized over 15,000 hours of volunteer power to fight food waste and food insecurity, which we value at over $473,000! And still, our community continues to expand – last year, 199 *new* volunteers joined our SHA fam. With volunteers like ours, 2023 aims to be our best yet.