The Innovations and Inventions of Second Helpings Volunteers
by HG Gruebmeyer
Since Second Helpings founding in 2004, volunteers have been loading (and unloading) their cars and weighing donations at agencies, and many have picked up incredible tricks of the trade. I'm so excited to share these with y'all this month, and you can always refer to them on our blog here. If you're a volunteer who didn't get the chance to submit your innovation this month, feel free to email it to me anytime at hg@secondhelpings.info or post it on our SHA Volunteer Community Facebook page.
---
Our first volunteer innovation is by longtime volunteers, Paul and Cheryl Schenk, who've constructed a rack in their car to hold the bread so it doesn't get squished by other items: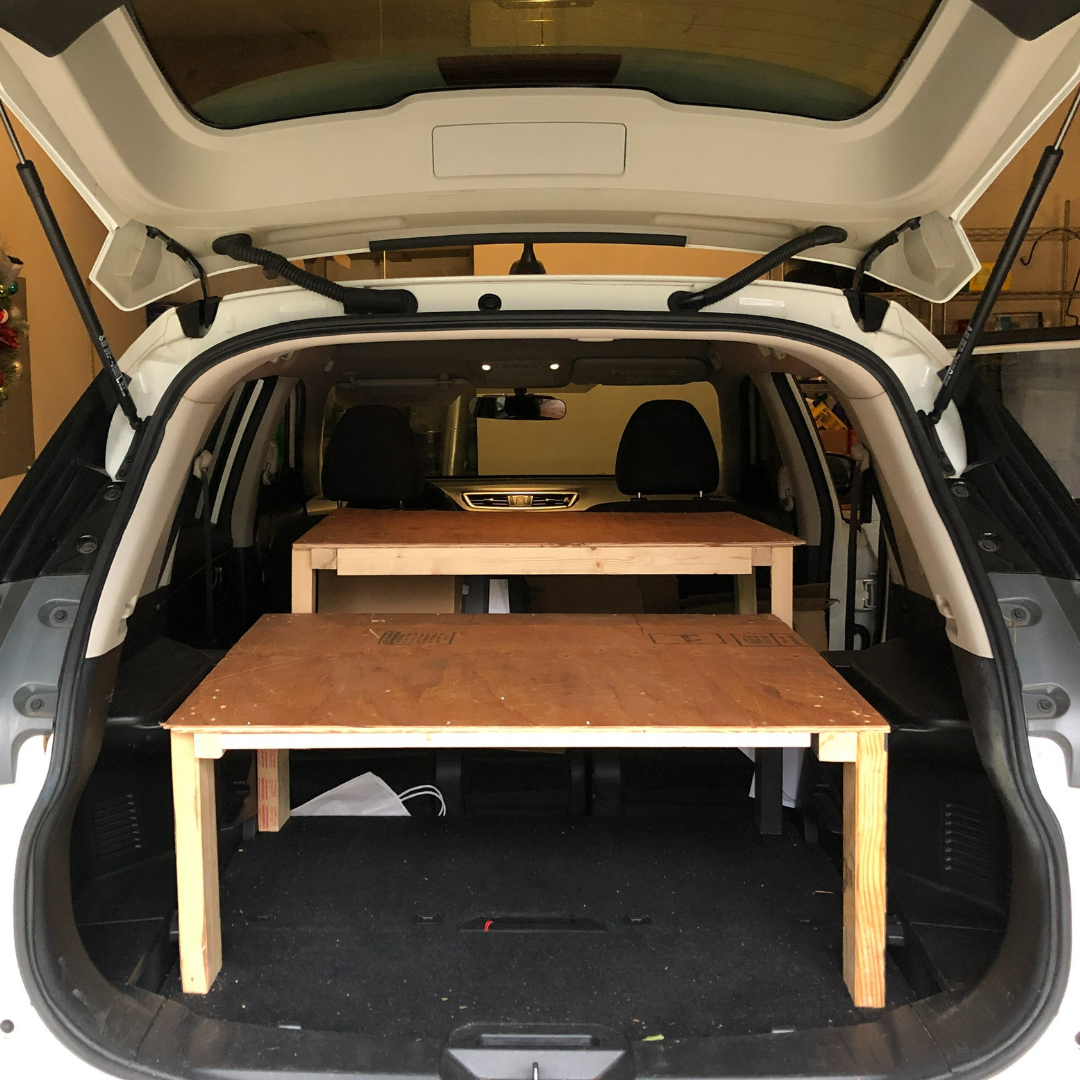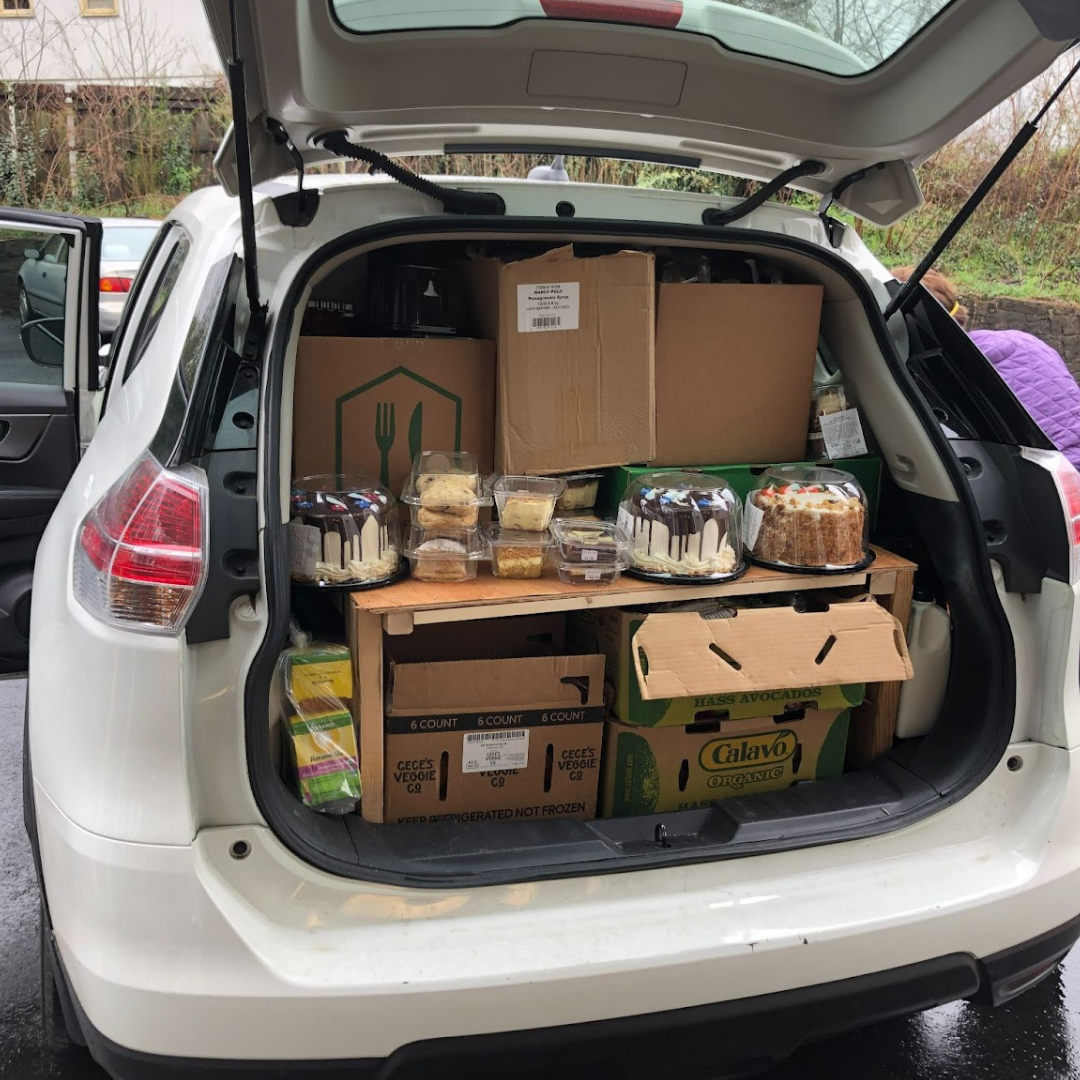 The Schenks drive a Nissan rogue, and loaded 854 pounds (with zero squished pastries) from Whole Foods to the CAC in the rightmost picture. Paul said he originally used 2"x2" legs, but then updated the legs to 2'x4' and added 2'x4' supports as well.
---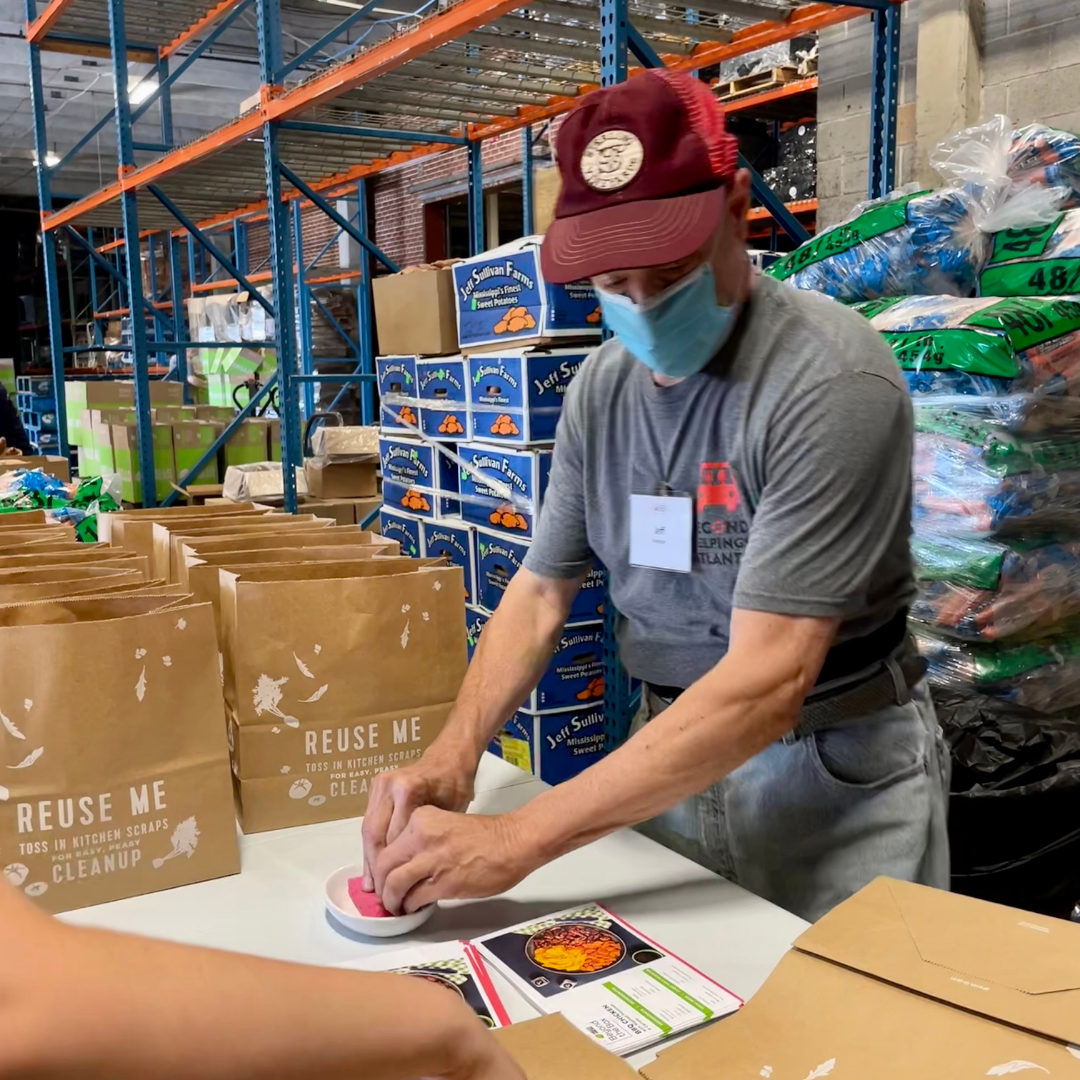 Our longtime Meals with Meaning regular Jeff Discend (as well as 2020 Lenny Award Winner) is not only a master replenisher and seasoned food rescue pro, he also brings his own micro-sponge and disk to MWM each week to wet his fingers to open the bags with more ease. The other innovation Jeff always brings to his replenishing game is a perfectly stacked cardboard stack, ready for easy transport to the recycling room. He wedges small pieces of cardboard (the front and side flaps of rice/veggie boxes are removed for easy access) between the larger flattened boxes and the usually wobbly stack stays perfectly still the entire voyage to the recycling room.
---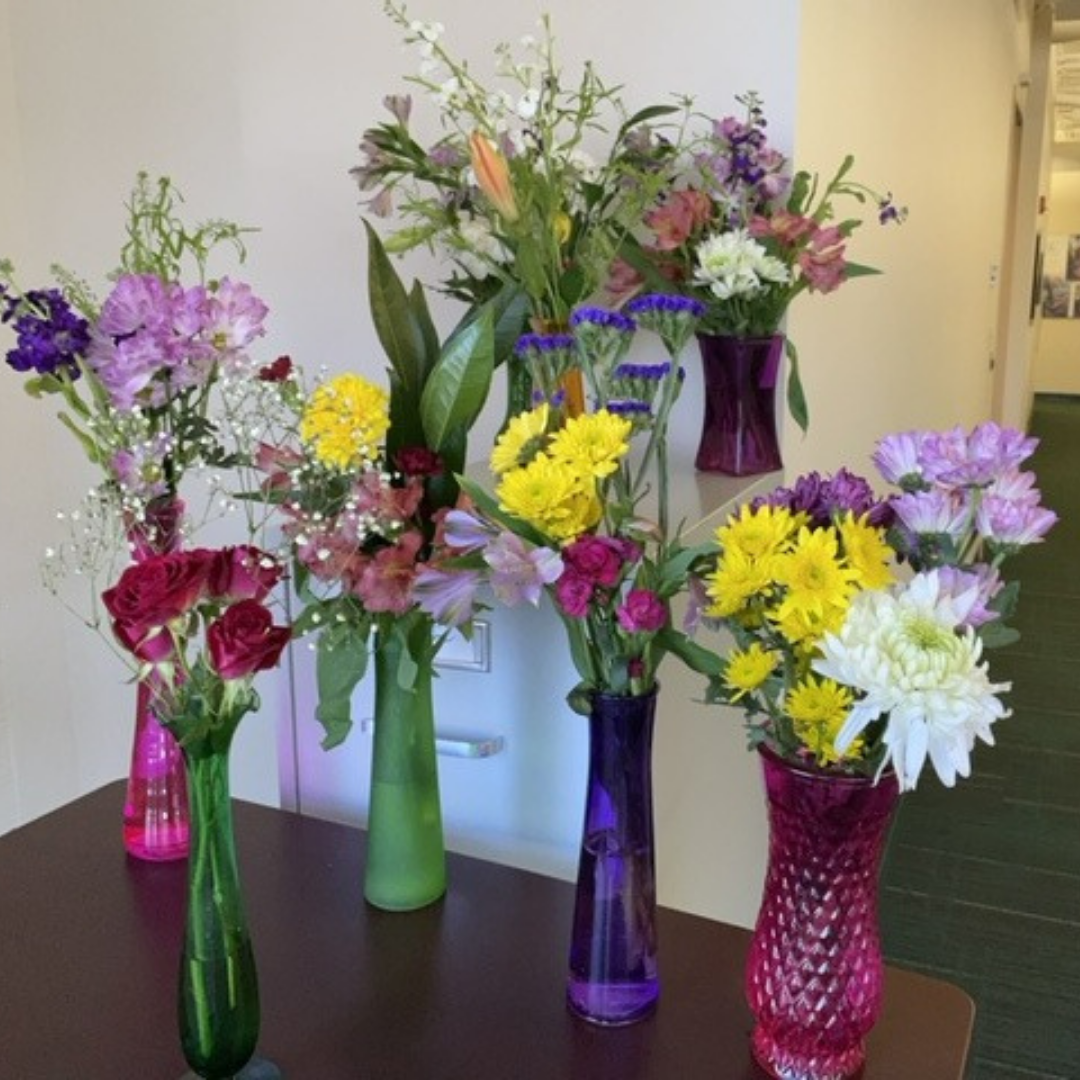 Another volunteer innovation comes from Tonja Bridges, who frequently does routes with her husband Jim, who noticed they were donating SO many flowers on her Sunday morning pickup as well as received feedback from the agency that they often overwhelmed their capacities, so she reached out to HG and they coordinated a plan for her to take them to a local hospice care. In the image below you can see the flowers on display, Tonja said the folks at the hospice care reported, "they have already been magical."
---
Superstar volunteer Anne Beckwith submitted these tips in response to the call on May's volunteer newsletter:
My volunteer hacks:
Finding boxes was my early nemesis! Some places are great about boxing or about putting boxes out for you. Others….
Get empty boxes from your drop off site, if possible. That way you don't have to hunt for boxes when you arrive at your next pick-up. I personally like the produce boxes that are double-boxes: two boxes stored in the space of one!
If you get any high quality bags, like Trader Joe's or Whole Foods, collect them for pick-ups. They hardly take up any space!
I love this because it responds to probably the most popular request I receive from volunteers: more boxes! If you have any other box or packing tips/tricks, please feel free to email them to me at hg@secondhelpings.info and I'll share them with the whole community in upcoming open routes lists.
---
The next "innovation" comes from Second Helpings Marketing and Communication's coordinator Juliet Eden! After a long online hunt for the perfect food rescue scale, Juliet's mom was getting rid of an old bathroom scale and Juliet realized it would work perfectly to weigh donations. Although all of our partner agencies are required to have a scale on site and they are not required to volunteer with Second Helpings, having a scale in your car can often shorten wait times at the agency and make the weighing process even more seamless. If you have a bathroom scale lying around and collecting dust, give it a new life on your next food rescue route!
---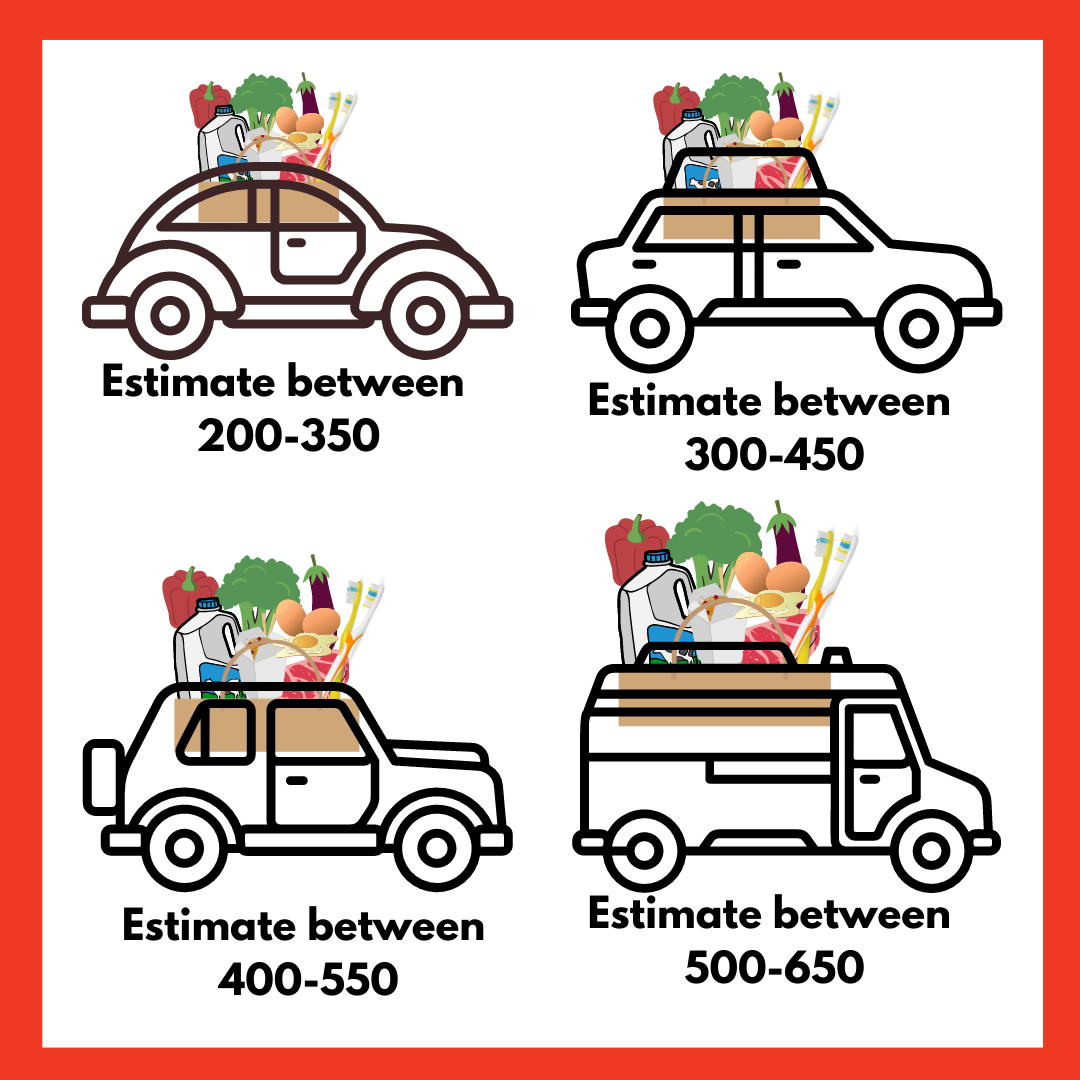 The last volunteer hack is one from my own playbook. Sometimes it happens that an agency's scale is temporarily broken or MIA, and you have to guesstimate the donation size. First, you're always welcome to call the volunteer hotline at 678.894.9761 ext 1. If that's not the best option or you're in a fix, I've gone on a few dozen food rescues at this point and think I've got it down to a pretty good system. Usually, if a donation is not just bread and light items, something that fills the front seat of any car is between 25-50 pounds. If a donation is mixed items and fills the majority of a compact car, it is most likely between 200-350 lbs. Under the same conditions, a donation that fills the majority of a sedan is likely between 300-450 lbs, the majority of a small SUV between 400-550 lbs and of a larger SUV/Van/Pickup Truck is likely between 550-650lbs. Of course, these are all estimates, but I think they give y'all a better idea if you ever find yourself in the situation of guessing a donation's weight.