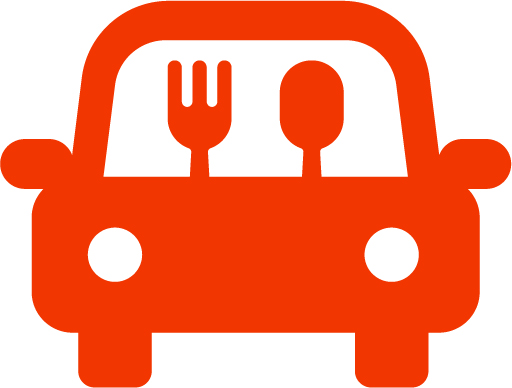 Meet SHArin!
You might not know it, but you've met SHArin. She keeps an eye on our volunteer name tags, looks over our business cards, and watches over the warehouse. Whenever we send a note card or letter, she's there. SHArin has a starring role on t-shirts, tote bags, and a nifty new enamel pin. SHArin has even been spotted on some food rescues around town, though not as many as she'd like. SHArin is the perky red car in the Second Helpings Atlanta logo and she's ready to see more of metro Atlanta!
"I can't wait to have some adventures this summer! Red is my favorite color, but I've been wearing it a while so I'd love to try some other colors and patterns. Thanks for letting me ride with you as you rescue food – meeting new neighbors is my favorite thing to do!"
This summer, take SHArin with you as you rescue and deliver fresh, surplus food. Download a copy of the coloring page and design SHArin with crayons, colored pencils, markers, pens, or other fun details. Take SHArin with you on your food rescues and other adventures this summer.
Follow our social media for updates on SHArin's summer!
Take SHArin on your summer adventures and show us! Send in your Summer of SHArin photos at INFO@SECONDHELPINGS.INFO or tag us in your social media posts so we can see how much fun SHArin is having this summer!
SHArin would love to spend time with you, no matter your age or summer plans! She hopes to meet some of our regular food rescue drivers, this summer's Youth Rescuers, and new friends of all ages.
For our Elementary rescuers!
Click, Download, Color, Cut
Want to get started driving food rescue with SHArin? Sign up as a volunteer or email info@secondhelpings.info for more information.