Zero Waste Cooking Series: Shrimp Risotto and More with Marc Pollack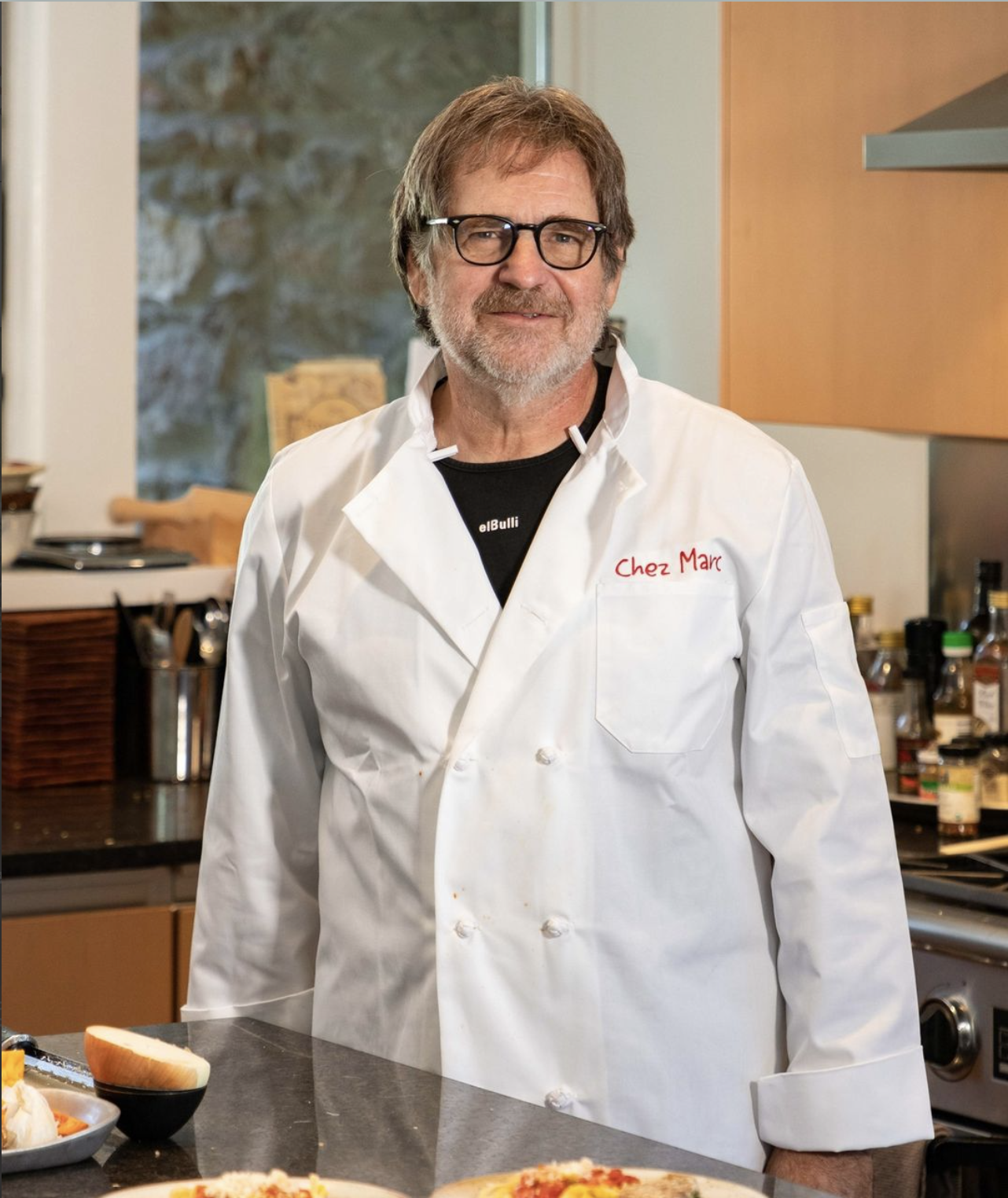 Second Helpings Atlanta is hosting zero waste cooking classes throughout the month of April in celebration of Earth Day. By using ingredients you might otherwise toss, you're keeping them out of landfills, which is part of our mission. Our "Zero Waste Cooking Classes" are sponsored by our long time partner, Mercedes Benz USA.
Our second "Zero Waste Cooking Class" of our April series real estate developer-turned-cookbook author, Marc Pollack! Marc's recipes for shrimp risotto, shrimp and grits, a shrimp stock, and a simple arugula salad are below.
Marc Pollack spent the pandemic documenting the meals he created with fresh ingredients from his wife Robin's garden. An advocate for homelessness and affordable housing, he knew he couldn't have done it without a roof over his head. So, he published his recipes into "Chez Marc's Quarantine Cookbook," a tasty compilation of the three daily meals he cooked throughout the pandemic, raising over $50 thousand for the Gateway Center, which provides support services and stable housing for people experiencing homelessness.
Seafood or Shrimp Risotto
Ingredients
2 tablespoons butter
1 garlic clove, minced
½ pound medium shelled shrimp (deveined) – double if just shrimp risotto
½ pound  scallops – add if seafood risotto
2 tablespoons parsley, chopped
4 cups fish or shrimp broth (keep broth hot in a pot on stove top)
2 tablespoons olive oil
½ cup onions, finely chopped
1 cup Arborio risotto rice
½ cup parmesan cheese
Salt and pepper to taste
Directions
Heat butter until it foams, then add seafood and cook for 5 minutes until shrimp is pink.  Once cooked, add ½ of the parsley and allow it to cool down. Set aside for later use.
Heat olive oil and saute onions until translucent.  Then add Arborio rice with 1 cup of hot broth and cook, adding hot broth ½-1 cup at a time until it's all been absorbed. Add hot liquid slowly as the rice becomes creamy about 20 minutes total, stirring regularly. 
Add back in the shrimp and/or seafood mixture to blend, just a few (5) minutes. 
When finished (al dente), add parmesan cheese, salt, pepper and remaining flat-leaf parsley (optional: add butter to increase creaminess).  Serve hot.
Shrimp and Grits
Ingredients
¾ cup grits
¼ teaspoon salt
6 ounces cheddar, shredded
3 tablespoons butter
1-pound medium shrimp (14-16 count – shrimp per pound size), shelled and deveined (hold shells aside for shrimp stock)
2 tablespoons butter
2 tablespoon olive oil (Alternatively, do not use butter and oil, but rather sauté ½ cup of chopped bacon and then proceed)
½ cup green pepper, chopped
¾ cup onion, diced
1-2 cloves garlic, diced finely
½ teaspoon dried thyme
½-1 cup shrimp stock
1 tablespoon tomato paste
2 teaspoons Worchester sauce
2 dashes tabasco
½ lemon juice
Salt to taste
2 tablespoons parsley, chopped
2 tablespoon scallions, chopped
Directions
Grits: Bring 3 ½ cup water to boil in a medium size pot and add grits.  Reduce heat to simmer and cook for 15-20 minutes until tender.  Stir regularly so that grits do not stick to bottom of pot.  Remove from heat and add salt, cheese and butter and stir until melted and blended.  Keep warm but turn off stove and let sit until ready to use.
Shrimp: In a large frying pan or cast-iron skillet in melted butter and olive oil, sauté onion and green pepper until soft, about 3 minutes.  As an alternative, first, cook bacon in the skillet and then cook shrimp in bacon fat; in this case, you do not need to use butter and oil to sauté.  Add thyme to blend and then stir in shrimp and cook until pink, not overdone, but medium-rare, about 2-3 minutes.  Add ½ cup of stock, combine with tomato paste, Worchester sauce, tabasco and lemon juice until all blended, well coating shrimp, and cook another 2-3 minutes. Do not overcook, only cook on medium or low.  Salt to taste
Serving: Portion grits onto the middle of the plate and top with shrimp and sauce into the middle of the grits and sprinkle with parsley and scallions.
Shrimp Stock
Ingredients
Shells from 1-pound colossal shrimp (if seafood stock, add bones, head and tail from 2+ pound white fish)
6 cups water – 1 ½ quarts
½ cup onion, chopped
½ cup carrots, chopped
½ cup celery, chopped
1 tablespoon garlic, roughly chopped
1 bay leaf
¼ teaspoon dried thyme
¼ teaspoon crushed black peppers
4 parsley stems
1 tablespoon salt
Directions
Rinse shells (and bones if seafood stock) under cold water and place them in a medium-sized pot with all the remaining ingredients. All herbs can be put in a sachet or directly in the pot of water and shrimp shells. Simmer for 45 minutes to 1 hour and skim the top of the water with a ladle or slotted spoon. 
When stock is cooked, strain and allow to cook immediately. Use an ice bath to cool more quickly. Use stock as needed or freeze for up to 6 months. I also like to freeze in ice cube sizes in an ice cube tray so that it can be apportioned as needed for smaller dinners.
Arugula Salad
Ingredients
16 ounces arugula, whole leaves
2 ounces Parmesan cheese, sliced or shaved
Juice of 1 lemon
¼ cup extra-virgin olive oil
Salt and pepper to taste
Optional: Beets and goat cheese
Directions
Add the shaved Parmesan to a bowl with the fresh arugula. Toss with lemon juice and olive oil. Sprinkle with salt and pepper to taste.
Enjoy!