Annette Joseph's Frittata from her Cookbook, Cocktail Italiano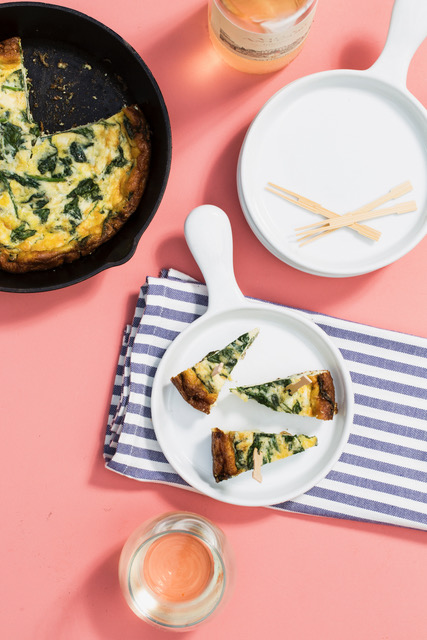 Frittata in Italian roughly translates as "fried." That said, a frittata is basically an omelet. The best thing about this breakfast, or cocktail snack, is that it can be made ahead and left at room temperature 4 to 6 hours, then cut into bite-sized pieces.
One of the practices Annette finds most amazing about an Italian kitchen is how they repurpose food. She likes to include leftover vegetables in the ingredients, which makes it very Italian. This frittata recipe can be customized by what you have in your refrigerator—be creative! Any vegetables in the fridge will do — this is a great way to use up all the vegetables in your fridge.
Ingredients
5 eggs, beaten
¼ cup milk
3 cups spinach, or kale (about ½ cup cooked), steamed and drained
2 tablespoons chopped shallots
1 teaspoon salt
½ teaspoon pepper
1 cup grated Parmesan
Veggies: peppers, tomatoes, asparagus, broccolini, or mushrooms, sliced and pre-cooked to reduce moisture
3 tablespoons olive oil
Directions
Preheat the oven to 350 degrees F.
In a large bowl, combine all the ingredients except the oil.
In a medium cast-iron skillet over medium heat, warm the oil, and add the egg mixture.
Cook 3 minutes, then transfer the skillet to the oven and bake for 20 minutes, until the eggs are firm.
Cut into bite-sized pieces, and serve warm or at room temperature.
Enjoy! You can pair this delicious frittata with a cocktail from Annette's book, Cocktail Italiano.