Zero Waste Cooking Series: Roasted Chicken with Chef Lance Gummere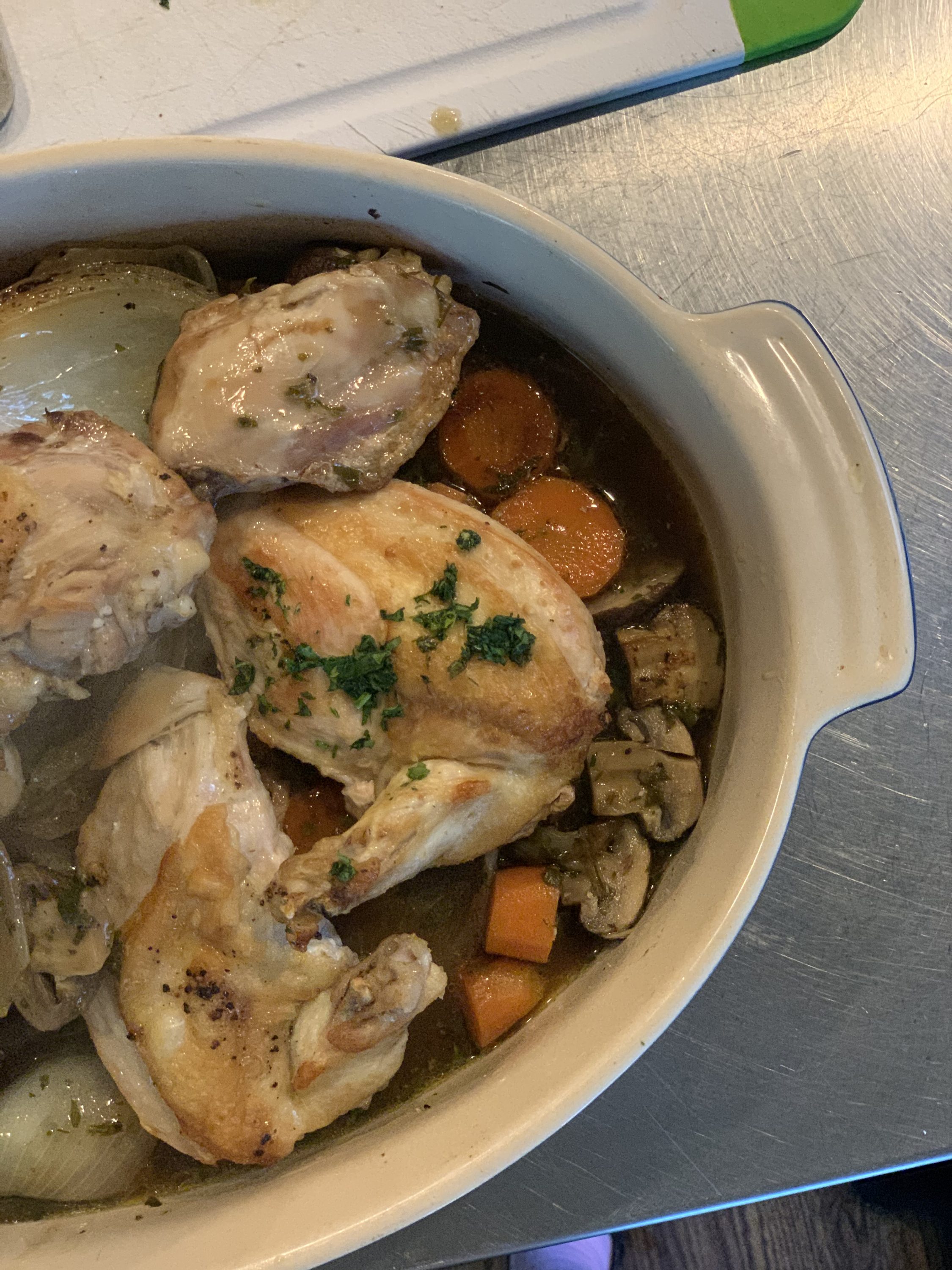 Second Helpings Atlanta is hosting zero waste cooking classes throughout the month of April in celebration of Earth Day. By using ingredients you might otherwise toss, you're keeping them out of landfills, which is part of our mission. Our "Zero Waste Cooking Classes" are sponsored by our long time partner, Mercedes Benz USA.
The first "Zero Waste Cooking Class" of our April series features Mercer Street Meals Chef Lance Gummere! His recipes for roasted chicken, chicken stock, and schmaltz are below.
Chef Gummere spent decades at the helm of some of the city's most prestigious restaurants and catered for the likes of Dolly Parton, Jay-Z, Iggy Pop, Cyndi Lauper and the Red Hot Chili Peppers. When the pandemic forced his restaurants to close, he launched Mercer Street Meals, serving delicious, nourishing three-course meals-to-go. 
Pan Roasted Chicken with Vegetables and Herbs
Ingredients
3 pound chicken with breasts, wings, and legs removed from carcass
2 tablespoons vegetable oil
2 small yellow onions, cut into quarters
1/2 pound of button mushrooms, washed and cut into halves
8 ounces of carrots, peeled and cut into 1/2 slices
1 1/2 cup of chicken sotck
3 tablespoons of lemon juice
1 tablespoon of fresh parsley, stems removed and finely chopped
1 teaspoon fresh thyme leaves
1 tablespoon of kosher or sea salt
Directions
Preheat the oven to 350 degrees.
Season the breasts, legs and thighs with half of the salt.
Heat the pan and the oil over medium-high heat. Add the chicken, and cook for 10 minutes until all sides are nicely browned. Remove the chicken from the skillet and leave the fat remaining in the pan.
Add the onions, carrots, mushrooms, and remaining salt to the pan and cook for 5 minutes over medium heat, stirring occasionally.
After 5 minutes, add the stock, lemon juice, and herbs and bring to a boil.
Return the chicken to the skillet and cover the skillet. Roast covered for 15 minutes.
Remove the cover and roast uncovered for 15 minutes longer or until the chicken is thoroughly cooked and the vegetables are tender.
Sprinkle with the thyme leaves and enjoy!
Chicken Stock
Ingredients
1 pound of chicken skin and bones
2 quarts of cold water
½ pound of chopped onion
¼ pound of chopped carrots, chopped
¼ pound of chopped celery
1 bay leaf
1 sprig of thyme
¼ tsp. of Black peppercorns
6-8 parsley stems
2 cloves of garlic
Directions
Place bones in a heavy-bottomed stock pot and add cold water. Add the vegetables and herbs. Bring to a boil, then reduce to a simmer. Skim the layer of "scum" off the top of the stock periodically and discard.
Simmer for 3 to 4 hours. Add water if necessary to keep bones covered.
Strain through a sieve lined with layers of cheesecloth or large coffee filters. Cool the stock, then refrigerate.
Harvesting the "Schmaltz:" Schmaltz is rendered chicken fat. Remove the top layer of hardened fat from the top of your chilled stock. Put the fat into a small saucepan and bring to a quick boil. Then reduce the pot to a simmer. If there is any liquid in it, it will start to sputter and spit. This is simply the liquid below the fat boiling and trying to escape via vapor through the fat layer. After a minute or two, the sputtering should stop. Any small particles of water will have escaped into the air, and what you're left with is rendered chicken fat. Pour into a small container and refrigerate.