Veggie Draw Winter Pasta from Mitchell Anderson at MetroFresh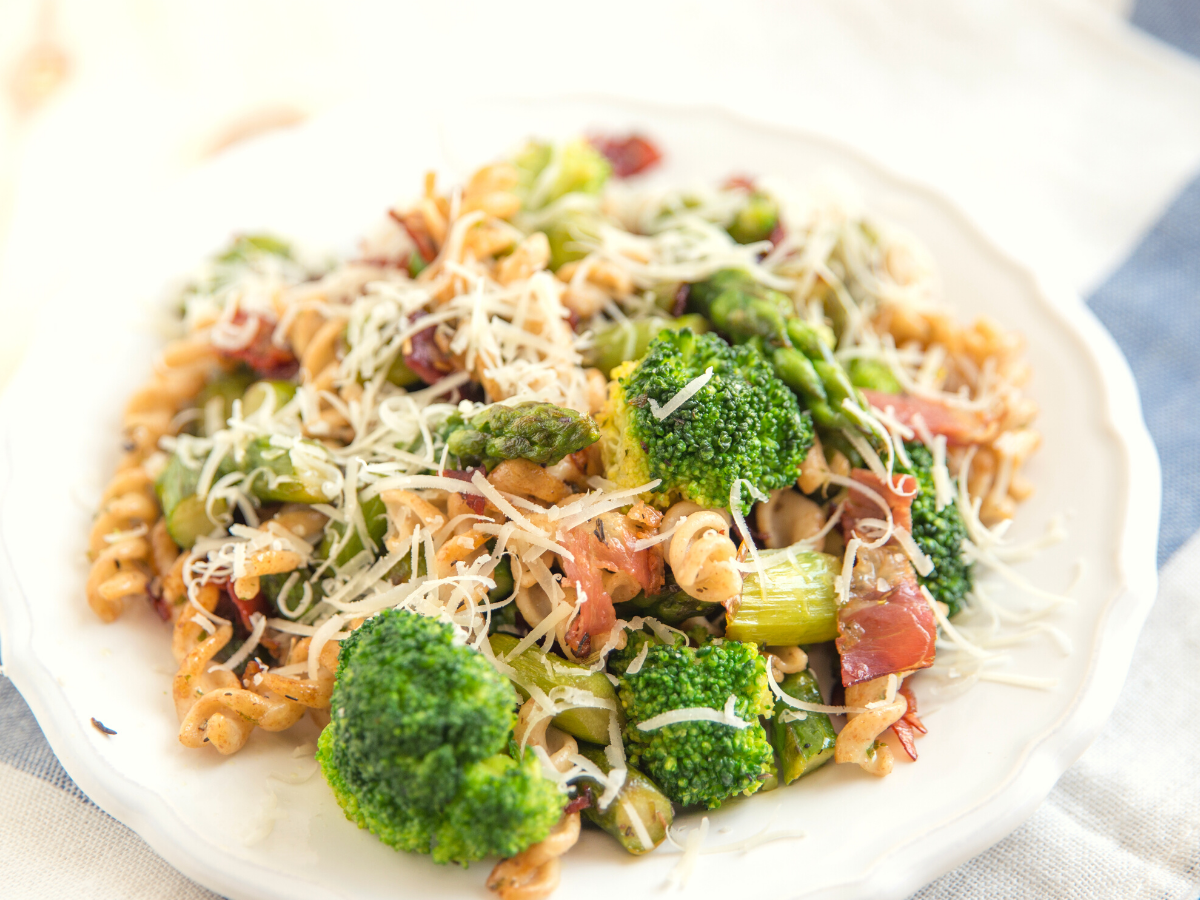 There are so many times when you accumulate "ends" of items you've used in other meals. Most of the time when Mitchell Anderson of MetroFresh opens his veggie drawer he finds half a bag of spinach, a couple of potatoes, a half-used squash, a couple brussels sprouts and some other random items.
This dish, inspired by the aging veggies in Mitchell's refrigerator, is great for when you don't have enough of any one thing to make a side, but you know if you don't use these things soon they're going to have to be tossed. This is the time to get creative and brave!
This fresh winter pasta can be created by roasting all of your leftover veggies in the oven with garlic, olive oil, lemon and butter. Your ingredients will vary, but don't fret, you can always look at what you have and supplement with a quick trip to the grocery if need be. The ingredient list below is everything that Mitchell had in his veggie drawer, which was enough for about six people.
Ingredients (the items in Mitchell's veggie drawer):
1 Yellow summer squash, diced
1 Zucchini, diced
Remnants of two tomatoes that were previously sliced for sandwiches, cut into chunks
About 5 cloves of garlic, roughly chopped
2 Leftover pieces of Vidalia onions, julienned
A handful of green beans, cut into 2 inch pieces
5 Assorted mini bell peppers, cut into rings
1 Yellow potato that's been in there for a couple months, diced into ¼ in pieces (small)
1 Wilted bunch of Italian parsley, chopped
1 Half a bag of enoki mushrooms, cut off stems
1 Head of Romaine lettuce, chopped
½ Container of arugula
1 lemon
4 TBS Butter (optional)
½ cup (or so) Extra Virgin Olive Oil
Kosher salt and pepper to taste
Fusilli, Farfalle, or Penna Pasta (This recipe works better with smaller pasta, but if you only have spaghetti or linguini, that's fine, just break them a bit before cooking.)
Directions:
Preheat oven to 400.
Combine all ingredients except salad greens, lemon, and butter in a large mixing bowl. Drizzle with olive oil and toss thoroughly.
Spread out veggies on a sheet pan and add salt and pepper to taste.
Roast in the oven for about 20 minutes.
While the veggies are roasting, put a handful of arugula and the chopped romaine into the same bowl – no need to wash it. When veggies are done (15-20 minutes), pour over the greens directly from the oven. Top with butter and a squeeze of lemon juice. After butter has melted, toss the entire mixture and set aside to bring to room temperature. The greens will wilt nicely with the heat of the veggies.
Cook pasta in salted water. Mitchell likes his pasta slightly al dente – about 8-10 minutes.
Drain the pasta and pour hot pasta over the room temperature veggie mixture. Toss thoroughly. If you want some protein, add some shrimp, sliced chicken breast, left over steak, or your favorite sausage.
Serve with shaved parmesan and a dollop of ricotta cheese. If you have any fresh basil, toss in a handful of basil leaves! Enjoy!