Eric Sherman: A Young Man Driven to Make a Difference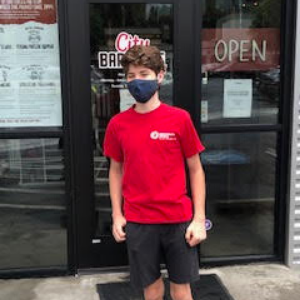 At age 15, driver's permit in hand, Eric Sherman needed some practice behind the wheel. He also wanted to make a difference. That's when Eric, a rising junior at Dunwoody High School, decided to become a volunteer driver with Second Helpings Atlanta. He heard about SHA in December of 2018 while participating in an Atlanta Community Food Bank youth summit that opened his eyes to food insecurity in the community.
Eric has been an active and enthusiastic volunteer ever since. Eric's mom, dad or older sister will typically ride with him, but he's the alpha volunteer in the family. "This was really my idea," says Eric. "Nobody pushed me to do more volunteer hours—I was really interested and wanted to do it." Eric's frequent routes have taken him close to home and across the city to rescue and deliver food to those in need.
Volunteering is a way of life for Eric. In addition to driving with SHA, he serves as a teen board member of Creating Connected Communities, an Atlanta non-profit. Eric's friends are impressed with his commitment, and at least one has signed on as an SHA driver as well.
Since taking on his volunteer routes Eric has become a skilled driver while ensuring that others have nutritious food on the table. Thanks, Eric and family for all that you do!